Jesus said, "Let the little children come to me..."
Our children's ministries seek to capture children and families in our church and in our community with love, to help them find God, to understand his love for them and to mentor new disciples for Jesus Christ.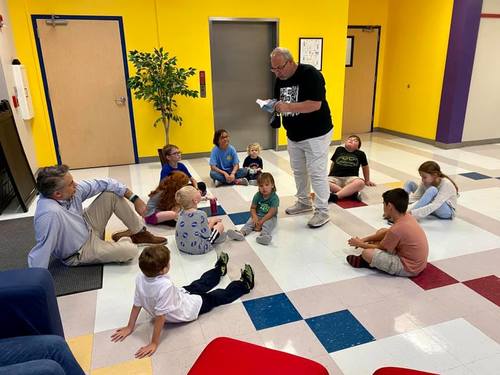 Stories * Snacks * Faith * Fun
Wednesdays immediately following Dinner Church (starting at 5:30pm) until 7:30pm.
Nursery is available for children 5 years and younger.
We have Sunday School for preschool – 5th grade
starting at 9:30am every Sunday
in the Children's Ministry Center.

During this time, we hope to help the children
learn about God's grace and His will for them
as they grow in their faith.

Sunday School lessons consist of hands-on Bible Crafts and discussion of scripture.


infant & toddler nurseries
Our nurseries provide free child care to parents so they may attend church events and worship services.

Child care is provided in the Infant Nursery
for children 0 to 2 years.

Child care is provided in the Toddler Nursery
for children 3-5 years.

If you are in need of childcare for an FUMC event, please contact our nursery coordinator at least 10 days prior to the event by using the Contact Us form below.

Our nursery caregivers are trained in First-Aid/CPR and are highly devoted to helping your children enjoy themselves in a loving, Christian environment.


Our acolyte program is open to all children
3rd through 5th grades
during the 10:40am traditional worship service.

The program was created to give children
an active role in worship.

Normally the acolyte serves by lighting and extinguishing the candles on the communion or altar table and distributing and collecting the offering plates. At the discretion of the pastor, the acolyte may also assist in other portions of the worship service.
monthly family events
children & youth!
July 17-20, 2022
Serving current 3rd - 5th graders

This 4-day, 3-night retreat at the El Shaddai Retreat Center in Yorktown gives your current 3rd - 5th grader the opportunity to experience God through worship, games, friends and much more.
All activities will be supervised by adults from FUMC and surrounding churches, with high school and college students assisting as junior staff.
There are 50 openings for campers –
25 girls and 25 boys.
A confirmation letter with additional information will follow when registration is received.
Led by Debbie Durham and Liz Parker, the children will sing, use rhythm instruments and learn very basic music theory skills.  

The purpose of the class is for children
to begin to experience the good news
of  Jesus Christ, His great love for them,
and the basics of Christianity,
such as God as our Heavenly Father,
grace, prayer and forgiveness.

Cherub Choir is for ages 3 – 5 years
The simple explanation is that it's church, but over dinner. What seems like a radical departure from tradition is actually a return to our Christian roots.
We'd love to hear from you. Fill out the form below to get started.